This weekend flew!!! TBF and I went to the Cubs game last night and I am TIRED at work today. Cubs totally lost to the Pirates, but we met some really nice old men from Pittsburgh. We're going to another Cubs game on Thursday with a big group (including one of TR's!), should be a lot of fun!
T-1 week until I'm officially unemployed. I'm trying to make a list of activities I can do to keep me busy while I'm job hunting:
1. Volunteer...I was thinking somewhere at pet store or PAWS. I love dogs and I'd like to give back somehow.
2. Craiglist fixer-upper...follow me here. So, I really like doing crafty wafty, handy dandy stuff. I'm thinking about buying a desk off craiglist and sanding it down, repainting it and getting cute knobs from Anthropologie. There's something about having an item in
your
room that
you
've worked so hard on and looks pretty because
you
did it.
3. Obviously continue the job hunt...
4. Probably go to some more Cubs games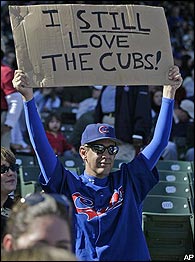 5. Babysit my adorable niece (she's not really my niece but it's easier to say that when she's my cousins daughter) and spend some more time with the zins' (yeah, that's supposed to be cousins)
6. Donate some old clothes to goodwill. I have this problem called "When I buy something new, I forget about my old clothes"...does anyone else have it? ;) My closet is also a cave because the door to my closet only exposes about 1/4 of my clothes. In order for me to get to the rest of my clothes, I have to literally crawl into my closet..not ideal.
Clutter Control Freak <--this is an great blog I JUST discovered!!
7. Work out a lot...psh..in theory..
8. Dress shopping for weddings this summer
9. Do something creative with all my pictures
10. Paint ..a lot
11. Take a few trips to the Papa Freck's boat