Alright corduroy. Let's talk. What exactly are you?
Corduroy: Corduroy is a textile composed of twisted fibers that, when woven, lie parallel (similar to twill) to one another to form the cloth's distinct pattern, a "cord." Modern corduroy is most commonly composed of tufted cords, sometimes exhibiting a channel (bare to the base fabric) between the tufts. The word "corduroy" can be used as a noun, a transitive verb, or an adjective. Corduroy is, in essence, a ridged form of velvet.

Thanks Wikipedia.

It confuses me. It's getting colder, so it's time to break the cords out, right? Gap is promoting their corduroy like crazy right now and I'm tempted to drop in and snatch some, but it just confuses me. What do I wear with corduroy, and in what color? Color is an entirely different story because it usually come in a random brown that's difficult to pair with anything that isn't a "fall" color.



Let me clarify, I love Fall, but I'm not sure I love the corduroy.

I've never found a pair of corduroy pants that is flattering on me, and I'm not sure if I'm willing to take the time and energy to find out. Does anyone just hands down love corduroy? I personally think pants, skirts and jackets are the only items that should be corduroy, but please, if you can prove me wrong with an item that is cute and corduroy and not pants, jeans or skirts, be my guest.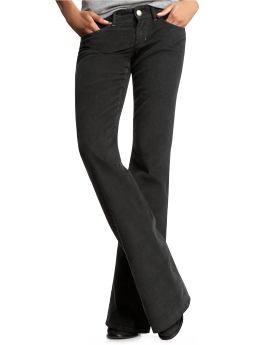 Also, does anyone have a color preference? What do you wear with it? I imagine that if I wore corduroy I'd pair a dark colored pair with a maroon or navy long sleeve shirt or a light sweater and a fun scarf.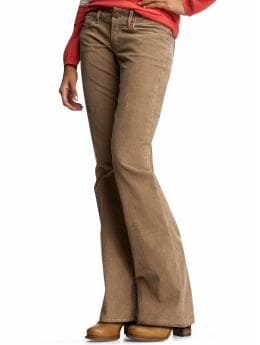 But I mean what about this brown color? See what I mean? what do you pair with that? Does anyone else think these are less flattering? I'm not digging those boots with them either...
So all in all, I guess cords aren't that confusing...but rather, its just difficult to find a flattering pair. I think I just added a pair to my shopping list.
Oh Fall, how I love you...
Happy Hump Day!